I had kind of a fun day yesterday. Tom Mehren had asked if I could use my sidecar to ferry him around while he did a photo shoot to promote his Sound Rider Rally in the Gorge
http://www.soundrider.com/rally/
I met him at Route 30 in Mosier where he planned to meet the riders who were to star in his little film epic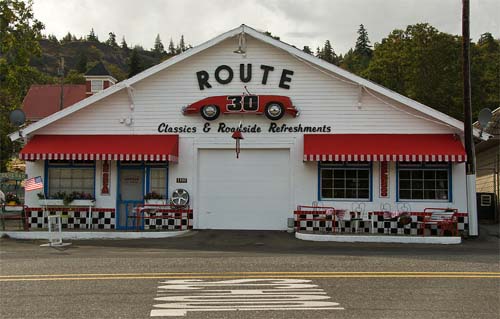 http://www.route30classics.com/
We chat and watched a raven sitting atop the Mosier totem pole while we waited for his crew to show up
George rode a very clean Ninja down from Yakima but no one else showed up. We waited around for half an hour. The Raven left and so did we.
We went to the viewpoint overlooking the Mosier loops. Tom decided with only one rider to film he didn't need my help.
He set up on a corner below the view point and I followed George through the loops once before heading home.
It was a beautiful morning for a ride. I went home the backway over dirtroads that dropped me down Swyers Drive, right behind my house. I saw quite few deer, almost pegged one at the start of the gravel on Huskey Road. I didn't take many photos in the morning because i was on a tight schedule. My friend, Matthew was coming in from Portland with his Triumph Scrambler sidecar rig and we were going riding after lunch.
(to be continued)
Last edited: