Hi all I have attempted my first electrical mods on my 05 Bonny, I bought a Motone ignition relocation bracket left side, but then I found out that I had the shorter cable inside my light bucket which doesn't reach, so I read the post from Chris in NC about dealing with it, and to my suprise I managed to sort it out, and the connector now lives under my tank next to the coil, hope it's going to be happy there.
I also purchased the Motone Lucas style plug and play rear light unit with hard wired bullet indicators fitted to it, and it also came with front indicators too.
I removed the existing ones and fitted the new ones in the same place, they went in well but the bolts from which the wires emerge from were to long, when I fitted the headlight back on the bolts were touching the sides of the bucket, so I bought a pack of washers and put 2 on each of them them before refitted to give me more space, job done and and looks great, IMO.
The rear light fitted fine, but they didn't put the plug in harness in the box, so I rang Squaredeals uk and they were great, they had 2 lengths so I opted for the long one as reviews say they needed to extend the cables as wiring was too short, it was delivered very quickly, so today i fitted it and it looks great, but I had problems connecting the wiring to the harness, most of the colours on the light don't match what's on the harness, I managed to get both indicators working, then tried to wire the running light and brake light, black to black has been neutral, there's a red so connected red, then a blue, but only a green left, turned the ignition on and blew a 10 amp fuse, will need to get some tomorrow to finish the job, but should I switch red to green and blue to red, it's a bit mad.
I have now borrowed a power tester so I can check for the live wires when I turn the ignition on.
Why did I not think of that earlier, DOH.
Will post the finished mods soon, I hope.
Cheers.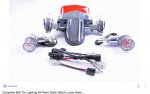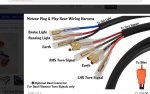 Last edited: