We thought we would give you a preview of our 904cc Sports Big Bore Kit pistons for the air cooled twins.
They give a compression ratio of 12:1, have a tight quench, anti-friction coated skirts and have +2mm valve pockets.
The big bore kit should be available in 6-8 weeks.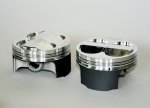 Regards
Mike
https://www.triumphtwinpower.com