After completing the 1977 Yamaha XS650D project bike #4 for my friend Scott, I decided to purchase a similar bike from the same seller. It is a slightly newer 1981 Yamaha XS650S (Special) with under 9,000 miles on it.
I have torn it down pretty far, assessed things, and ordered parts, etc. So far, I have completed:
Mount new Avon Roadrider tires
Clean and paint the battery box
Assessed that I can probably make a spare 2008 Triumph Bonneville seat work on this bike because I hate the stock seat! I will recover the seat with a nonbranded cover.
Cleaned the frame, engine and dirty, grimy bits
New chain
New Euro-style handlebars
New Biltwell grips
The 1981 XS had solid-state ignition from the factory, so I will not have to make that conversion.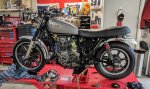 It's amazing how similar these are to the Triumph Bonneville's!